LET YOUR BODY DANCE…
You would like to experience SOCIAL DANCING…

You would like to improve in BALLROOM DANCING and master its basic moves in both latin and standard dances.

You do BALLROOM DANCING COMPETITIONS…

You would like to participate in a unique DANCE PERFORMANCE…
With a solid ten year experience in teaching, CYRIL offers lessons tailored to your needs and personal goals, may you either be a complete newcomer or an advanced amateur / professional.
OUR TEACHER'S APPROACH: invites you to learn a rigorous technique at your own pace, get more self-confidence and an awareness of what partnering really means… while having tons of fun dancing in pairs in a joyful atmosphere!
Rock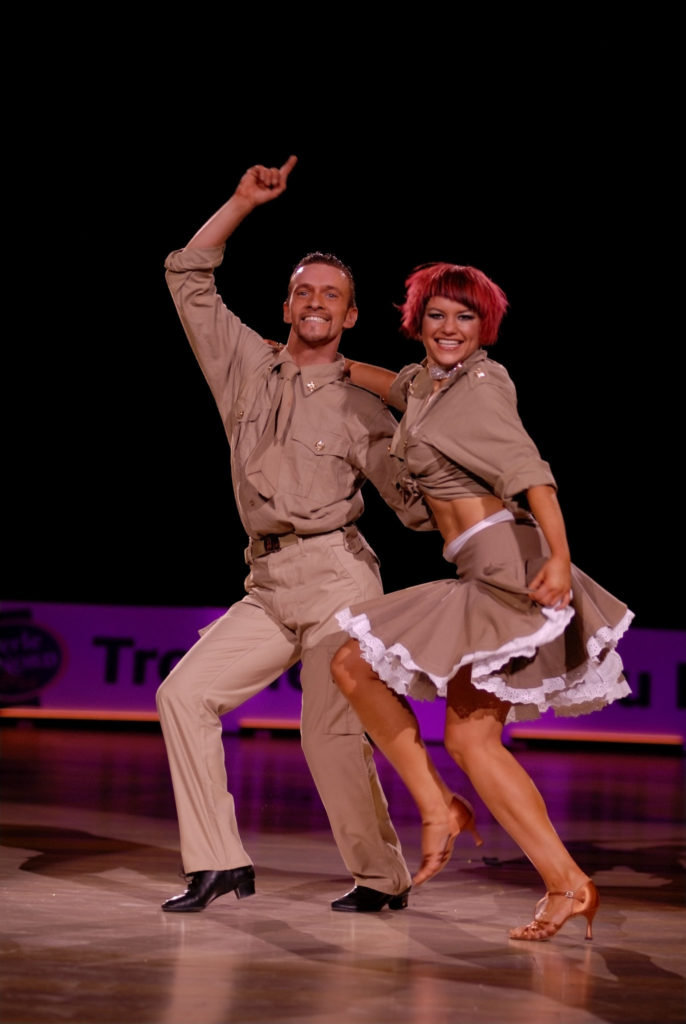 Although Rock'n'roll owes its origin to Rhythm and Blues and Swing, it didn't actually appear until the 50's. It was soon to become the most predominant popular style of music, notably thanks to Elvis Presley and Bill Halley. Rock symbolises the regained freedom of the post-war period.
♬ A world-famous song : Jailhouse rock ♬
Cha Cha Cha
The Cha Cha Cha originated in Cuba in 1954. It quickly became popular thanks to its simplicity and its originality. This joyful and carefree Latin dance is considered one of the easiest. The dancing partners 'play' with each other to a lively beat. This dance is a reflection of friendship and recreation.
♬ A world-famous song : Quizas, Quizas, Quizas ♬
Samba
Brazilian in origin, this joyful, exuberant and extroverted dance with its bouncy beat is the symbol of the Rio Carnival. Its fast rhythm, accentuated hip work and its characteristic bounce truly make it a party dance.
♬ A world-famous song : Mas que nada ♬
Paso Doble
Paso Doble is part of Spanish folk dancing and shares elements with Flamenco. This lively, impetuous, proud dance with its rather provocative attitude, owes its inspiration to Corrida, where the man plays the role of the torero, and the lady, the role of the cape.
♬ A world-famous song : España Cani ♬
Rumba
Rumba is the oldest of all Latin American dances. Cuban in origin, Rumba arrived to France in the 1920s. With its exotic side and its pronounced hip-sway, Rumba is a seductive and fascinating dance. Very much a sensual dance, it is the dance of seduction and emotion… an invitation to Love.
♬ A world-famous song : Besame Mucho ♬
Tango
Before being danced in the most sumptuous of European ballrooms, the Tango originated in Argentina, in the poorer districts of Buenos Aires in the 17th century. This very rhythmic dance evokes not only passion, seduction, and domination, but also pain and the hardships of life.
♬ A world-famous song : El choclo ♬
Slow Foxtrot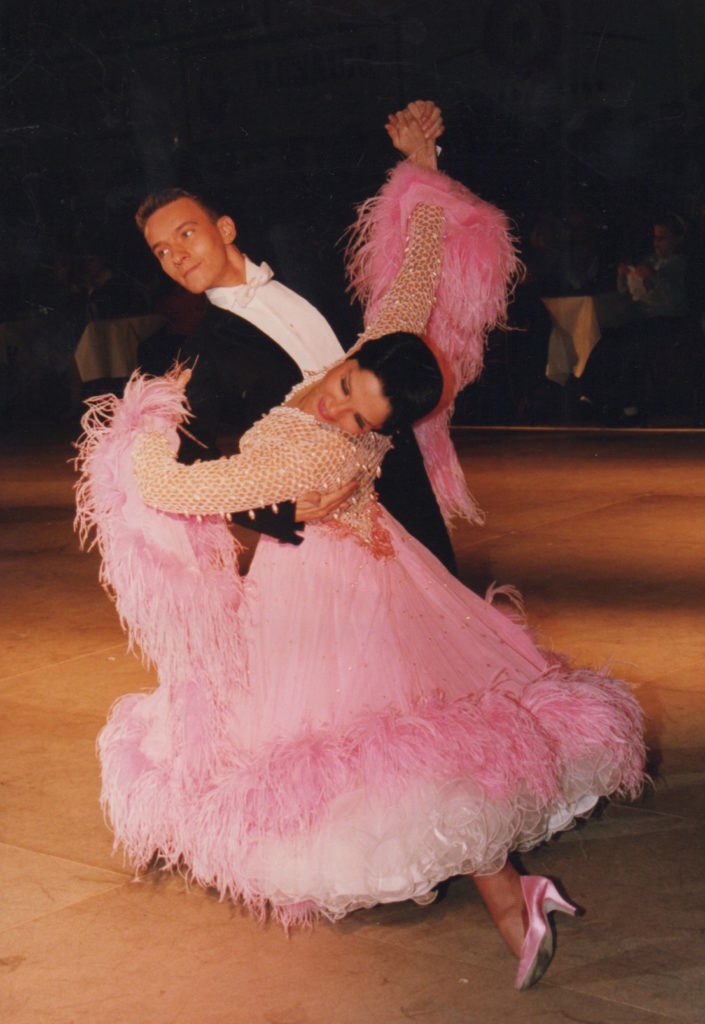 The Slow Foxtrot first appeared in France with the arrival of the American soldiers during WWI. Commonly regarded as the most difficult standard dance, it still appears 'natural' thinks to its flowing and smooth movements without pausing, which allow for long progressions around the ballroom.
♬ A world-famous song : Fly me to the moon ♬
Viennese Waltz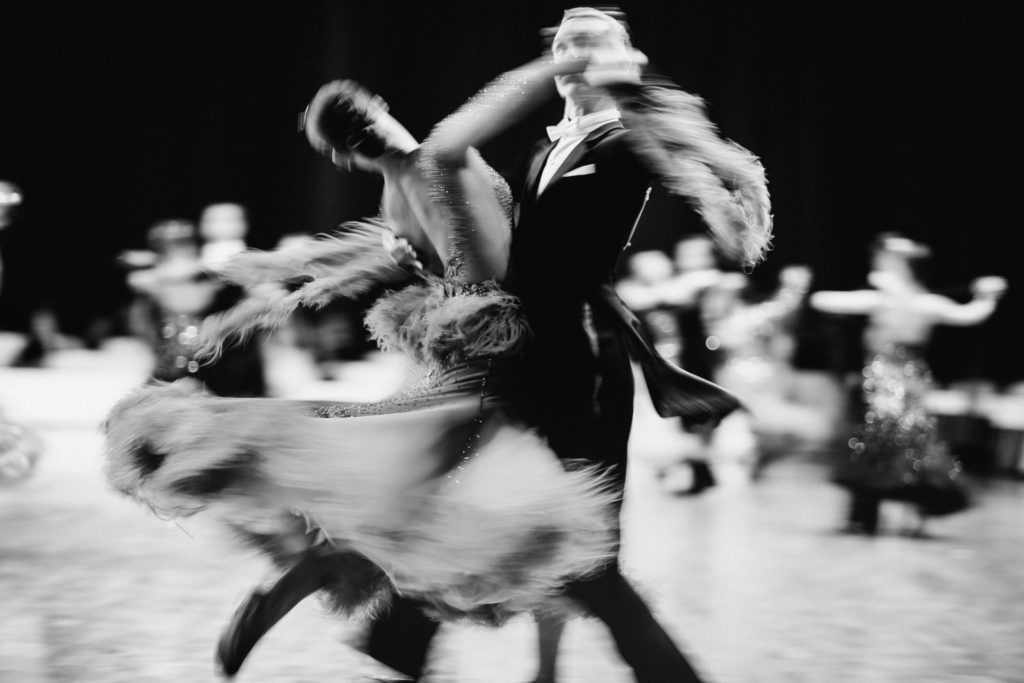 The Waltz is believed to stem from the Volta, a ballroom dance to music in triple time practised in Italy, then in the South of France (la Volte) in the 16th century. However, the dance didn't really rise to popularity until Johann Strauss II, an 18th century Austrian composer, who made it the princely dance of all the European courts. The Viennese Waltz only has a few figures, but is technically very difficult. Today, it is traditionally the opening dance at weddings.
♬ A world-famous song : The Kaiser-Walzer (Emperor Waltz)♬